OM Tibetan symbol
The OM symbol is one of the most powerfull designs in the tibetan culture. As the central point of many tibetan but also other asian mantras. All kind of buddhist sectaries do refer to it.
Getting this symbol tattooed may be moved by personal belief – but also by a real attachment to the esthetism of this symbol. The main mantra related to it is the "Om Mani Padme Hum" that it incantated both by clergy and laity of Tibet and all the faithful of the Tibetan Buddhist doctrine.
Our recommandation is to get the OM into a circle that will awesome in the back or on shoulder (see example).
Phrases to tattoo
Please find here some of the sentences of course you can add around the OM tattoo in order to get a great tibetan design for your tattoo :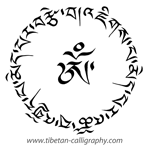 Live for love, love with passion
Live without fear, die without regret
Form is emptiness, emptiness is form
You must be the change you want to see in the world
Links : More info on OM mantra at : http://en.wikipedia.org/wiki/Om