Description
Your initial tattoo design:
Want to get tattooed with the initial of your husband, wife or child(ren) ? or even yours?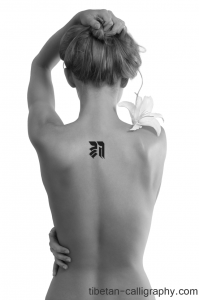 This style of tibetan lettering is made for you ! We have designed this style for men and women, because a single letter will find it's perfect place on your body; wrist, arm, neck or shoulder.
With this tattoo, you ink for ever this unique relation. This design is done either by writing his or her initial but also with your own or those of the members of the whole family.
To order the initial tattoo, please writte the complete name, we will create the initial that perfectly correspond to it. Each name being different, it is important to let us know it.
Please be aware that all our calligraphies are hand made thus no machine would be able to bring you this quality of work 🙂
You can also write several words (7 words maxi). We will draw for you the initial of each name in giving you the detail of each in the file we will send you.
This style of traditional Tibetan lettering is the perfect way to keep a true intimacy with your tattoo.  It allows you keeping it a visible peace of art for all. The final size could be adapt when printing the file. Therefore one more possibility to personnalize one more time your letter tattoo.
English translation in Tibetan will be made upon your own words, handwritten by a true Tibetan artist.