Description
Simple and meaningful tattoo design
Order your own simple and meaningful tattoo in Tibetan. Translation will be made upon your own words, handwritten by a true Tibetan artist.
This tattoo design will be awesome for your spinal, as our customers testify. Many tattoos not only make a style statement; they reflect individual elements of one's personality. Some people may gravitate toward large tattoos. For others, however, a small, delicate tattoo can make a quieter statement.
Gorgeous but simple tattoo
If you're looking for a gorgeous but simple tattoo, consider ordering a simple and meaningful tibetan tattoo.
It can also be turned into an arm band,  it can be either dainty such in this calligraphy or bold like in the classical cursive tibetan design, depending on a personal preference for line thickness, and can be both fashionable and symbolic. Choosing a letter tattoo can take a little time, best is to find a personal design that fits you best.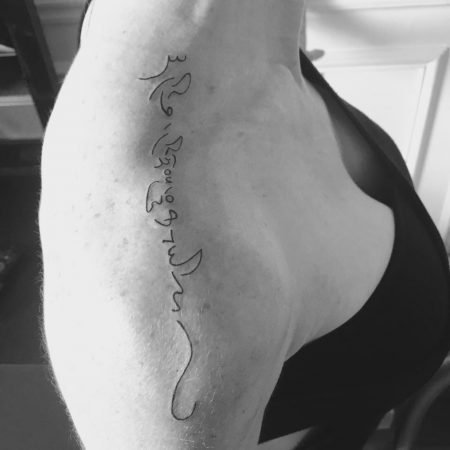 Choosing a first tattoo
If one day you intend to get inked, your first intention might be to get a small of delicate tattoo. Tibetan tattoos can be discreet and will never cause offense or regret as long as you choose a sentence that correspond to your inner self. If you're worried about a small tattoo lasting a lifelong, think about what has led all your past years, and will obviously stand strong across the years.
Once your choice has been made, take time to choose your tattooist and the tattoo shop in which you will get inked