That's it; you've made your choice: your tattoo will be Tibetan which will make it unique! Far from the category of flash tattoos reproduced thousands of times by hundreds of tattoo artists worldwide. But prices may vary a lot depending on the kind of tattoo.
For a flash tattoo, the price is fixed and mentioned in the book of the tattoo artist who offers it. But in your case, your unique tattoo is custom-made, so the tattooist starts from calligraphy by making a transfer or directly by copying the drawing. In this case, it is more likely that you will pay by hour. In this regard, we recommend a transfer that guarantees respect for the lettering…
The price of a tattoo varies according to the body area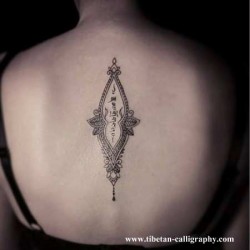 An artistic tattoo based on Tibetan calligraphy; Several steps will be necessary in order for you to leave with your tattoo on your skin. The tattoo artist will first ask you to see the design in order to validate its implementation and to make a first estimation and the RDV for inking, retouches if necessary.
The tattoo artist is an artist, the only thing they expect is that you appeal to their talent; if you do not inspire them; they'll directly transfer it – which also allows not to increase the basic price if necessary.
Know that you can vary the price depending on the area of your body that will receive the calligraphy: the joints are particularly difficult to tattoo (many folds), they require more time. The complexity of the drawing also takes part in fixing the price because it also requires more time. Ah, speaking of time! It is the key to the price…
Other factors that come into play are more or less rational such as: monochrome or colored tattoo (therefore using different pigments and needles), bandages, healing cream, location of the tattoo shop, fame, number of employees… The criteria are multiple and can influence the cost of your tattoo.
Starting price for a tattoo
The price of a tattoo must be settled before starting the tattoo. The first price will be €50, but this will be for one word and rather not in a big city. Hourly prices start from €100: you'll never look at the very wide magnificent colorful tattoos the same way again!
Based on opinions shared by our customers, we find that for an average sentence it takes about an hour of work. So a good estimate is between €120 and €180, for a one hour to 1 hour and a half of work.